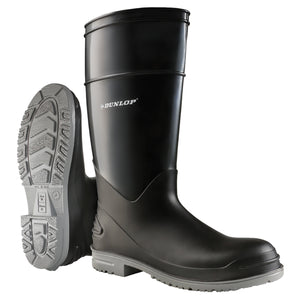 PolyGoliath 16" Steel Toe Boot
Polyblend® compound and a sleek design gives you chemical protection and all day comfort
Polyblend compound offers superior resistance to fats, oils and chemicals

Power lug outsole powered by a multi tread design provides exceptional comfort and slip resistance

Steel toe complies with ASTM F2413-11 with steel shank 

4690986
89682
Features:
ASTM CERTIFIED - This American standard covers the requirements for the safety performance of footwear. It is to provide protection against a variety of workplace hazards.
PROTECTIVE TOE CAP - The boots feature a protective toecap for offering maximum protection against falling objects. The built-in protective toecap serves to protect the toes from impacts of an energy level of 125 J and a compression at a load of 11121 N (2500lbf). Dunlop boots with a protective toecap are labelled as Safety.
COMFORTABLE - By design, the boots offer a perfect fit, optimizing comfort for everyday use.
WATERPROOF - The boots are 100% waterproof to keep your feet dry under wet and dirty conditions.
FUEL OIL RESISTANT - The outsole is resistant against oil, which assures that potentially adverse effects of oily substances on the protective properties of the boots are minimized.
CHEMICAL RESISTANT - The boots offer protection against a wide variety of chemicals. The specific application with types of chemicals encountered and conditions faced will determine which boot should be opted for.
ENERGY ABSORBING - The boots feature energy absorption of the heel region which limits impact to the foot while walking. The provision of shock absorption capabilities within the footwear minimizes risk of injuries.
Select Desired Size:
Sizes 7 through 15 are available
---
We Also Recommend