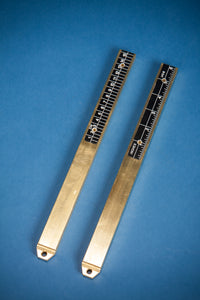 PM612ME-I/O Brass 12" Combination Inage (Sounding)/Outage (Ullage) Plumb Bob
Designed to accurately measure the distance from a fixed reference point on top of a tank to the surface of the liquid inside the tank.  The zero calibration point is at the inside top of the bob hole.  They have grooves on the brass side adjacent to the PHENOLIC scale as recommended by API.
Solid brass 12" long inage/outage bob used with inage, sounding tapes. Bob has a 0 to 6" outage scale with the zero calibration at the bottom on the English side. This side is used to find water bottom.  The Metric side has a 0 - 15mm outage, ullage scale at the bottom of the bob with the zero calibration at the top.  Eliminates the need for outage tapes.
---
We Also Recommend