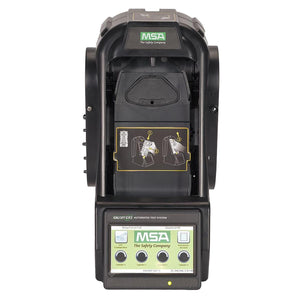 MSA Automated Test System: Audible/Visual, Battery Charging, 15 sec Bump Test Time, 60 sec Calibration Test Time, Black, LCD
MSA Galaxy GX2 provides automated calibration of MSA ALTAIR Gas Detector fleet
Simplicity counts with the MSA GALAXY® GX2 Automated Test System for advanced safety management and effortless operation. The GALAXY GX2 Automated Test System provides simple, intelligent testing and calibration of MSA ALTAIR® and ALTAIR PRO Single-Gas Detectors and ALTAIR 4X and ALTAIR 5X Multigas Detectors. Easy-to-use automated test stand offers high performance as either stand-alone unit or integrated portable detector management system, enabling total data access and control of the MSA ALTAIR family Gas Detector fleet. New MSA Link™ Pro Software for proactive safety management; gas exposure email alerts, direct data input, live filtering, test and exposure queries, collecting and printing reports.
Color touch screen for ease of setup and viewing 
Extremely simple to use; testing starts automatically without touching a single button 
Simultaneous testing of up to ten instruments
GALAXY GX2 System is optimized for use with MSA's XCell® Sensors; provides up to 50% cost of ownership reduction
At-a-glance indicators include low calibration gas volume, expiration warnings and test stand status.
MSA Link Pro Software provides proactive safety management, dashboard overview and total record-keeping 
18 languages available for test stand and MSA Link Pro Software that simplifies usage and reduces training
---
We Also Recommend