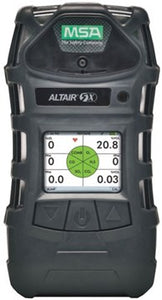 MSA ALTAIR 5X Multigas Detector
The MSA ALTAIR 5X Multigas Detector is a rugged instrument that boasts several options that provide maximum safety and make it easy to use in even the most demanding situations. The ALTAIR 5X is capable of measuring up to 6 gases simultaneously and is driven by advanced MSA XCell Sensor Technology. These sensors offer superior response time, stability, accuracy, and reliability together with an extended service life. It is now also available with an integrated PID sensor for VOC detection.

The ALTAIR 5X multigas detector tests levels of combustible gases in LEL and/or volume percentage range, oxygen, carbon monoxide, carbon dioxide, hydrogen sulfide, sulfur dioxide, ammonia, chlorine and many others depending on sensor configuration. A field-proven integral pump provides consistent gas flow without the problems of externally- attached components. Results are clearly shown on the high resolution, customizable monochrome or optional color display which provides crystal clear visibility indoors or out, even in bright sunlight.

The ALTAIR 5X multigas detector features large buttons for easy use, even with gloves, and its rugged IP 65 certified polycarbonate housing provides unsurpassed durability, including the ability to survive a 10ft (3m) drop. The detector also boasts the exclusive MotionAlert, which lets others know if the user has become immobile, and InstantAlert, a manual alarm that alerts others if a dangerous situation has arisen. The versatile MSA Link allows user to transmit data to a computer while unit is also the GALAXY GX2 System-compatible for automatic testing, calibration and record keeping. Over 18 hours of run-time is provided by the quick-recharge Li-ion battery pack.
MSA ALTAIR 5X Multigas Detector Interactive Simulator
MSA ALTAIR 5X Multigas Detector Data Sheet
---
We Also Recommend