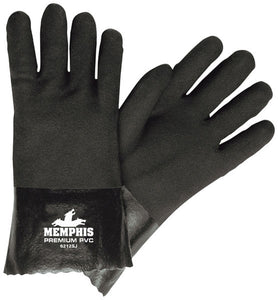 MEMPHIS 12" Black PVC Sandy Finish Gloves - 6212SJ
Select Size. Sold and Priced by the dozen.
These gloves kick PVC up a notch. Basic liquids and light chemicals don't stand a chance pinning these bad boys down. 1-2-3, Black PVC wins!  Gloves are Large size and 12" in length.
The 6212 is an industry standard black single dipped, smooth finish, interlock lined glove.
The 6212SJ are double dipped in black PVC, have a sandy finish, are jersey lined, and are treated with Actifresh® to help lock out odors.
---
We Also Recommend