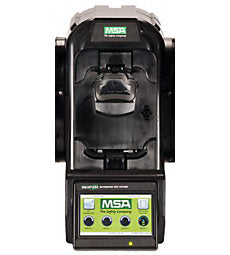 Galaxy GX2 Automated Test System, Altair 5/Altair 5X, Charger, 1 Valve (10128626 )
The new Galaxy GX2 Automated Test System was designed with ease of use and simplicity in mind. The test system features an intuitive color touch screen for easy setup and viewing. The touch buttons are large and feature a scrolling screen with pop up test results. Simply place any compatible Galaxy gas detector onto the automated test system and the system will automatically test, calibrate, and charge. The system allows up to 10 devices and 4 cylinder holders. When using RFID-tagged gas cylinders, gas cylinder information is automatically entered into the system, and the onscreen gas cylinder pressure gauge can display multiple cylinder statuses at the same time.
Users can also see the testing and battery status of devices quickly through the colored LED indicators. With the simple time efficient automatic testing, the Galaxy GX2 Automated Test System can save users up to 50% of calibration costs.
 Automated Test System Features
The Galaxy GX2 Automated Test System features 18 different languages with easy language setup options. The system is also optimized for use with MSA's high performing X-Cell Sensors. The advanced MSA X-Cell Sensor technology has a long life, quick bump test, fast calibration, and less clear times.
Galaxy GX2 Automated Test System Specifications
The Galaxy GX2 Automated Test System comes standard with pre-configured plugs, barbs, fresh air filters, spare parts kit, power supply and plug, Ethernet cable, and screen protector. MSA also offers nearly two dozen optional accessories that can be used to customize the automatic test system to meet individual workplace needs.
The automatic test system operates on 100-200 VAC (47-63 Hz). The entire unit is approximately 12 inches high and 6.5 inches wide.
The new Galaxy GX2 Automated Test System provides a simple and efficient approach to testing, calibration, and charging. With numerous user features, advanced software, optional accessories, and automatic cost reduction, the automated test system is an automatic choice for workplace safety managers.
---
We Also Recommend