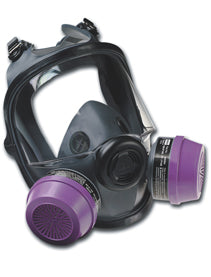 North Full Face Respirator, Dual Cartridge (7600)
7600 series is made of 100% silicone which offers better comfort, fitness and safety 
compared with 7700 half mask. 
Can also be used with PAPR or supplied air respirators to fit different using environments.
With specially designed oral/nasal cup to lessen"dead space" , avoid rebreathing in of exhaled CO2 and reduce the working fatigue of wearers.
7600 also offers a speaking diaphragm to amplify voices and make communication easy.
Dual facial seal design to offer better seal on the face and satisfy various demands of different facial types.
Center-fixing harness on the head enhances the stability which can provide perfect seal even during vigorous exercises.
Provides a 200° filed of vision to avoid any visual obstacles during climbing or descending.
Polycarbonate lens meets ANSI standard for high impact so the users do not have to wear extra glasses.
Uses North Safety N75001 - N75004 replacement cartridges, available online.
---
We Also Recommend